The German Cultural Forum in Debrecen welcomes everyone interested in the Goethe Jazz concert, which will be held again this year On August 29th (Tuesday) in Víztorony Debrecen.
Entry: from 20:00
Concert starts: 8:30 p.m
THE AWARD-WINNING GERMAN JAZZ-POP BAND SEARCHING FOR HOME is excitement, diversity and the breaking down of genre boundaries represents. The musical collective founded in 2016 is the legendary Bauer from Ludwigsburg The band brings their new album "Hidden Errors" from Studios to various festivals and clubs.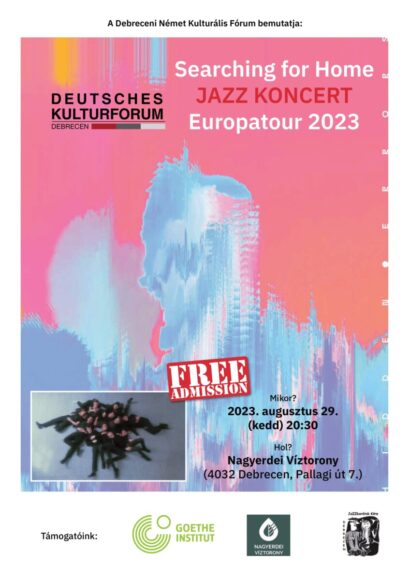 "Funk is reviving and the band shows why: huge groove, great sound and refreshing solos" – this is how Volker Dueck (Label Intuition), member of the Sparda Jazz Awards jury, describes this year's winners' art. Searching for Home will go on a European tour for the first time in 2023 and the band also visits Debrecen to present their unique style of jazz, funk and soul, which includes African folklore, trap-beats and the it is completed by Middle Eastern notes.
Youtube: https://www.youtube.com/watch?v=4b1SqchO3QA
Instagram: https://www.instagram.com/searchingforhome_
Spotify: https://open.spotify.com/artist/4ZsKk05FZSLRoR4htEWZc2
Web: www.bauerstudios.de/labels#searching-for-home
ENTRANCE IS FREE!
The concert is supported by the Goethe Institute in Budapest.